President Uhuru Kenyatta has donated KSh 500,000 to help a family from Murang'a county meet costs for their child's surgery in Canada.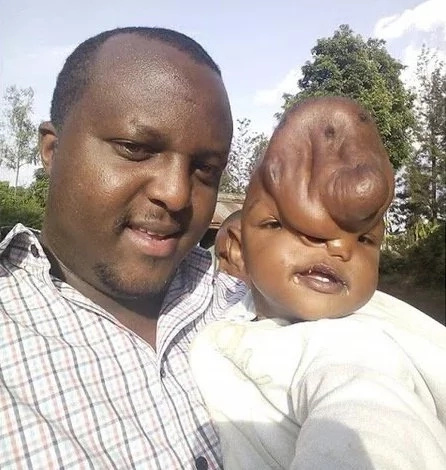 Kenneth Kinuthia, Fidelis Muthoni's father, feared they could miss the life-saving opportunity after an non-governmental organization (NGO) boss allegedly disappeared with KSh 2.8 million he had raised from well wishers for the treatment.
"I cannot express my gratitude to all those who stood with my family and helped organize for my wife and daughter's travel to Canada," Kunithia as quoted by The Star.
President Kenyatta's donation, and another KSh 300,000 from Murang'a Governor Mwangi Wairia, would only go towards meeting the travelling and accommodation costs.
A team of Canadian doctors agreed to treat Baby Fidelis for free for six months as long as the family could meet upkeep costs estimated to be about KSh 700,000.
Kinuthia's family had missed two deadlines, second one being on Friday, August 21, 2015, but hoped that they would be given a third chance to get their daughter for treatment.
Baby Fidelis suffers frontal bone defect called Encephalocele.
Hope Foundation CEO Benson Wanjau, whose NGO helps children with disabilities, was arrested on Thursday, August 20, 2015 in Westlands.
Police said the Equity Bank and M-Pesa accounts which Wanjau used to collect the money had only KSh 173,000, down from the KSh 2.8 million.
In his defense, Wanjau said he spent a lot of money in organising the campaign through TV airtime, social media, administration and field events.